Na-nu, na-nu! Robin Williams Eyeing Return To TV
---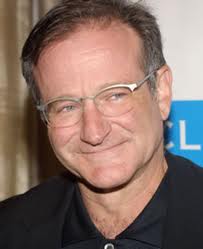 ---
---
User Feedback
Categories

During today's San Diego Comic-Con panel for Wynonna Earp, it was announced that the show has been picked up for a second season. The comic book adaptation premiered back in April for a 13-episode run, with its story following the great granddaughter of Wyatt Earp fighting to bring demons and other paranormal beings to justice.

Syfy has ordered 10 new episodes for Season 2 of Wynonna Earp, down three episodes from its Season 1 count. Look for the new season in 2017.

The end is near for the Salvatore brothers. As many expected, The Vampire Diaries will be concluding after Season 8. The official announcement was made today at the show's Comic-Con panel in San Diego, where a farewell video by the cast was aired for its gathered fans in Ballroom 20.

While today's news makes it official, discussion of the long-running drama's end has been swirling for quite some time. Back in April, star Ian Somerhalder told fans at a convention that Season 8 would be the show's last. And despite the The CW maintaining at the time that no decision had been made, many saw the writing on the wall.

The Vampire Diaries was a key part of The CW's lineup for a good part of its run. While its ratings have certainly taken a hit in recent seasons, the show was a flagship series for the network for a number of years, even spawning spin-off The Originals back in 2013.

Look for the farewell season of The Vampire Diaries to premiere on Friday, October 21.

Netflix announced today at San Diego Comic-Con that Daredevil has been renewed for a third season. The sophomore drama, which was the first Marvel superhero series on Netflix, will return to the streaming service in 2017.

Doug Petrie and Marco Ramirez, who took over showrunner duties for Season 2, will stay on with Daredevil going forward.

MTV announced today that Teen Wolf will be coming to an end after its upcoming sixth season. Word came this afternoon from Executive Producer Jeff Davis at the show's annual panel at Comic-Con in San Diego.

The veteran werewolf drama, which is the network's longest-running scripted series, was previously renewed for its now-final season at last year's Comic-Con, where it was confirmed that 20 episodes have been ordered. In total, the series will end at the 100 episode mark.

Starz announced today that the upcoming fourth season of Black Sails will be its last. The adventure drama, which was renewed for Season 4 back in 2015, is set to return with its final 10 episodes in 2017.

Black Sails will end as the first Starz original series to reach four seasons. The show has averaged a healthy 3.6 million viewers across multiple platforms through its first three years on the air, and also picked up two Emmy Awards in 2014 for Outstanding Special and Visual Effects in a Supporting Role as well as Outstanding Sound Editing.

Syfy announced today that 12 Monkeys has been renewed for a third season. The time travel drama has two episodes remaining in its sophomore season, with the finale scheduled for July 18.

The cable network has ordered 10 new episodes for Season 3 of 12 Monkeys, which is down slightly from the 13 episodes the show received for Seasons 1 and 2.

Look for Season 3 of 12 Monkeys to premiere in 2017.

AMC announced today that Preacher has been renewed for a second season. The freshman comic book-adapted drama is just over a month into its debut run, which so far has it ranked as the #2 new series on cable in 2016 among key demographics.

The cable network is increasing the episode count for Season 2 of Preacher, ordering 13 episodes for the show's return, which is slated for 2017.

Freeform announced today that Baby Daddy has been renewed for a sixth season. The veteran comedy remains a top performer for the network, holding its ranking as cable television's #1 series in its time slot among key demographics.

Today's renewal is the first for the show under the network's new Freeform moniker and will take the series past the 100 episode mark. The second half of Season 5 premiered earlier this month.

No time frame has been announced as of yet for the show's return.

And just like that, it's over. In a shocking move, Penny Dreadful was brought to an unexpected close with last night's Season 3 finale. After a major character death during the 2-part conclusion, the words "The End" appeared on-screen to the surprise of many. Ahead of the episode, even the network itself was promoting it as a season finale rather than a series finale.

To address those in denial, the network, as well as Penny Dreadful's creator John Logan, both confirmed the end of the series following the episode. And though the finale came as a surprise to viewers, plans for the end game had been in place since early Season 3 planning.

CBS has cancelled Limitless after its first season. The news comes a week after the freshman drama was left off the network's 2016-2017 schedule, though at the time executives stated they were exploring moving the series to another network.

Confirmation of Limitless' cancellation came this afternoon from showrunner Craig Sweeny, who took to Twitter with the news:

"I'm truly sad to report that #Limitless will not continue on any platform. Thanks so much to everyone who watched."

It was announced last week that A&E has cancelled Damien after its first season. Series creator Glen Mazzara posted the bad news on Twitter this afternoon, citing low ratings as the reason for the show not continuing.

The drama aired a short 10-episode run between March and May on Monday nights, but failed to draw a significant audience.

Showtime announced last week that House of Lies has been cancelled after five seasons. The Don Cheadle comedy will air its series finale on June 12, concluding a run of 58 episodes over four years.

Fox announced its schedule for the upcoming 2016-2017 season today, and notably absent was another edition of The X-Files, which was revived earlier this year after 13 years off the air. During the network's upfront press call, however, Fox TV Group executives offered fans some hope that the series may still return for another season.

Speaking on interest by the creator and cast, it was noted that Chris Carter, David Duchovny, and Gillian Anderson were all up for another installment. Speculation for a return time frame was even stated, with the 2017-2018 season tentatively eyed for new episodes.

For now, though, fans will have to patiently wait until a final decision is made. And that news might not come for some time. Stay tuned...

ABC has cancelled Castle after eight seasons. The news comes as somewhat of a surprise after viewers were preparing for the show to continue on without co-star Stana Katic, after it was recently announced that this season would be her last.

Rumored plans for a shortened ninth season apparently fell through, leaving the show with just one episode left before it signs off for good. The series finale airs on May 16.

Fox announced today that Sleepy Hollow has been renewed for a fourth season. The good news comes on the heels of last month's finale that saw a prominent character killed off, leaving many to speculate if the show would return.

The veteran drama will be back for the 2016-2017 season despite being the network's currently-lowest-rated drama.

It is being reported that Fox has cancelled Second Chance. The freshman drama premiered as a mid-season entry earlier this year and quickly established its share of devoted fans, though the show's overall ratings fell short of expectations.

The network moved the series to Fridays after only two Wednesday episodes, where it remained through the remainder of its run in March.

HBO announced today that Game of Thrones has been renewed for a seventh season. The news comes three days ahead of the Season 6 premiere, which is expected to draw enormous ratings for the cable network this Sunday.

Recent rumors suggested the series was eyeing another two-season pickup, with speculation that shortened would be ordered to conclude the series. Today's news includes no indication that the seventh season will be the show's last.

HBO announced today that Veep has been renewed for a sixth season. The good news comes days ahead of the comedy's fifth season premiere this Sunday, which will be its first under new showrunner Dave Mandel.

The veteran Julia Louis-Dreyfus series continues to be a strong performer for the cable network, maintaining healthy viewership numbers and recently winning an Emmy Award for best comedy series.

Look for Season 6 of Veep in 2017.

It is being reported that the BBC will be concluding The Musketeers after three seasons. The adventure drama was last renewed over a year ago, and just recently premiered its final season for Canadian audiences. Other regions will likely see a premiere later this spring.

Person of Interest is an American science fiction crime drama television series about an ex-assassin and a wealthy programmer that save lives via a surveillance AI that sends them the identities of civilians involved in impending crimes. However, the details of the crimes--including the civilians' roles, are left a mystery. As the word is out that the drama's upcoming season will probably be its last. Speaking on the show's future, executive producer J.J. Abrams said that he strongly suspects the story will conclude with Season 5, but noted that he believes there is a lot more story to tell were it to continue. Observers have seen the writing on the wall for some time now, with CBS leaving it off of this season's fall schedule and staying mum on its return. The show didn't even make the cut on the network's recently-released midseason slate, leaving many to question whether it would return at all. A silver lining in all this is that it does appear Season 5 will make it to air sometime this year, though exactly when it is anybody's guess.

 

Source: http://www.ismyshowcancelled.com

 

 Say 'Thank You' To Someone Special With An Amazon Gift Card: Just Click here

It is being reported that CBS has cancelled Angel From Hell after just five episodes. The freshman comedy, which starred Jane Lynch, drew modest ratings in its Thursday night time slot, but ultimately fell short of expectations.

Beginning February 18, new episodes of 2 Broke Girls will be taking over on Thursdays at 9:30pm. Until then, a repeat of The Big Bang Theory will air in its place this week.

Showtime announced that Episodes will be concluding its run after its upcoming fifth season. The Matt LeBlanc comedy will be signing off when many expected it to, as the series creators have previously stated that they have always had a 5-season plan for the show.

Production on the final seven episodes - down from the originally-announced nine - is set to begin next week. Look for the final season to premiere in 2017.

AMC announced that Fear the Walking Dead has been renewed for a third season. The pickup comes less than a week after the show's sophomore season premiere, which drew solid viewership on par with its Season 1 finale. The early renewal is not out of character for the show, as it was initially renewed for a second season months in advance of its series premiere.

The network has ordered 16 episodes for Season 3 of Fear the Walking Dead, which is a slight increase over the 15 ordered for Season 2. Look for a premiere in 2017.

Fox announced that New Girl has been renewed for a sixth season. The Zooey Deschanel-led comedy, which recently surpassed the 100-episode milestone, will continue its impressive run for the 2016-2017 season.

Almost five years since its premiere, New Girl holds the distinction of being the network's longest-running live-action comedy as well as its highest-rated.

Fox announced that Lucifer has been renewed for a second season. The freshman drama, based on characters from the Vertigo comic series of the same name, has been a solid performer since its mid-season premiere.

Through its first 10 episodes, Lucifer has become the network's 2nd-highest rated new series this season and holds a top 5 spot in the company of all new broadcast series among adults 18-49. The show is currently airing new episodes Monday nights, with Season 1 set to wrap up at the end of the month.

Season 2 of Lucifer will return for the 2016-2017 season, though Fox has not said whether it plans to keep it as a mid-season entry or move it to the fall.