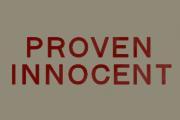 It is being reported that Fox has cancelled Proven Innocent after one season. The news comes one day after the legal drama aired its freshman finale, which will now act as its series-ender.
The show premiered in February as a mid-season entry but never really gained any traction. Critical reception was decidedly mixed and it struggled to garner a sizable amount of viewers.
Proven Innocent follows Madeline Scott, the head of an underdog criminal defence firm who is on a mission to set innocent people free, as she was once in the same situation. While she may be a hero to some, Madeline's bold tactics are not appreciated by Gore Bellows, the prosecutor who once secured her conviction and still believes in her guilt. But despite Bellows' incessant quest to see her locked up, Madeline puts her energy towards defending others, even while fighting to maintain her innocence and possibly find the real killer in her own case.