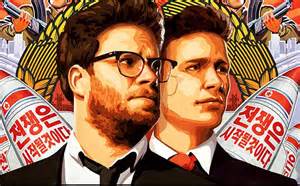 After being publicly criticized by President Obama, Sony has decided to release The Interview after all. The comedy will be released simultaneously in select theaters and video on demand on Christmas Day. They have never given up on releasing The Interview and they're excited the movie will be in a number of theaters on Christmas Day, At the same time, they are continuing the efforts to secure more platforms and more theaters so that this movie reaches the largest possible audience.
They are adamant about thanking the talent on The Interview and the employees, who have worked tirelessly through the many challenges they have all faced making the movie. Sony CEO Michael Lynton said in a statement, "While we hope this is only the first step of the film's release, we are proud to make it available to the public and to have stood up to those who attempted to suppress free speech." The full list of participating theaters has yet to be revealed, but The Plaza Theater in Atlanta and The Alamo Drafthouse in Dallas-Fort Worth have both announced they plan on screening the controversial comedy.
Sony canceled its planned Christmas theatrical release for The Interview, about the assassination of Kim Jong-un, in the wake of a cyber attack on the studio, which the FBI has since confirmed North Korea was behind, and terror threats. President Obama declared Sony had "made a mistake" pulling the film, to which Lynton said, "We have always had every desire to have the American public see this movie, but we do not own movie theaters. We cannot decide what is played in theaters."
---
Report Article