Na-nu, na-nu! Robin Williams Eyeing Return To TV
---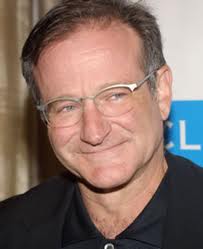 ---
---
User Feedback
Categories

It was announced today that Shooter has been renewed by USA Network for a second season. The sniper drama is currently five episodes into its run, which finally premiered last month after suffering from multiple delays.

The series had originally been slated for a mid-July premiere but was initially pushed two weeks after the tragic real-life shootings in Dallas, Texas. But after more attacks occurred, this time in Baton Rouge, Louisiana and France, the cable network scrapped Shooter's summer release plans altogether, opting to focus instead on a premiere in the fall.

Now that the Ryan Phillippe-starring drama if finally underway it has managed to put up solid numbers on Tuesday nights, averaging 2.6 million viewers in Live+7 viewing. That ranks it as the network's #1 new series in 2016, making the Season 2 pickup a no-brainer.

Based on the novel Point of Impact and the 2007 film of the same name, Shooter follows the life of Bob Lee Swagger, an expert marksman trained in counter intelligence who is now living in exile. After learning of a plot to kill the president, the highly-decorated sniper re-emerges for duty, only to learn he has been double-crossed in an operation that has ties to his past.

Look for Season 2 of Shooter in 2017.

It's official: Shameless has been renewed for an eighth season on Showtime. Word of the pickup unofficially leaked last week when show star Emmy Rossum closed a deal to return to the show, and today the cable network has confirmed the news.

The acclaimed drama aired its Season 7 finale last night, capping another successful 12-episode run that ranks has its top-rated season to-date. Currently Showtime's longest-running series, Shameless continues to be creatively strong and draw solid, consistent viewership. It's average of 5.8 million weekly viewers puts is just behind Homeland has the network's most-watched series overall.

Production on Season 8 of Shameless will begin in the spring with another 12 episodes that should return either later in 2017 or very early in 2018.

WGN America confirmed today that Salem will be ending after its current third season. The supernatural drama premiered its now-final season early last month and has so far aired five of its planned 10 episodes.

The series premiered in 2014 as the cable network's first original scripted drama. It followed the story behind the 17th century witch trials in colonial Massachusetts -an infamous part of history shrouded in darkness and mystery.

Fans of Salem will be relieved to hear that its creators were given enough advanced notice of the show ending to allow them to bring the story to a satisfying conclusion. Look for the series finale to air in early 2017.

It is being reported that Showtime has decided not to order a fifth season of Masters of Sex. The news comes two weeks after the conclusion of Season 4, meaning the final episode on November 13 now serves as its series finale.

The period drama had a solid run on the cable network, garnering critical acclaim out of the gate and being named of the Critics' Choice's Most Exciting New Series in 2013. It didn't take long after that for it to become one of Showtime's signature series.

While ratings were never one of Masters of Sex's strong suits, they do not appear to have played a major factor in the decision to end the series. Word is that Showtime and the show's producers mutually agreed that with the events of Season 4, including the wedding of main characters William Masters and Virginia Johnson, the story was complete.

It was announced today that ABC will be shifting second-year series Quantico into a new time slot when it returns from hiatus in January. The sophomore FBI drama will take over Monday nights at 10:00pm, filling the hour currently occupied by the new Hayley Atwell drama Conviction, which did not receive an order for any additional episodes past its original 13.

The network is likely hoping to improve Quantico's fortunes with the move, which will see it following hit reality series The Bachelor - a reliable performer that pulls in much stronger numbers than its current Sunday night lead-in Secrets & Lies. Quantico's ratings have been tapering off after an impressive debut in 2015 that saw it rank as the #1 broadcast series on Sunday nights among adults 18-49.

Look for Quantico on its new night beginning Monday, January 23 at 10:00pm.

Epix announced today that Graves has been renewed for a second season. The rookie political comedy is one of two new shows that mark the cable network's move into original scripted programming.  The series premiered in mid-October and is currently halfway into its 10-episode run.

Graves stars veteran actor Nick Nolte as a former U.S. president who, 25 years after his two terms in office, sets out to right the wrongs of his administration and reclaim his legacy. New episodes of the half-hour series air Sunday nights at 10:00pm.

10 new episodes have been ordered for Season 2 of Graves, which is slated to return in 2017.

The CW announced its winter schedule today, which includes a January 25 season finale date for Frequency. This confirms that the network has decided not to order any additional episodes for the show's first season.

The freshman drama premiered in early October but failed to generate much interest in its 9:00pm time slot following Arrow on Wednesday nights, losing roughly half of its lead-in viewership. The show's soft ratings resulted in no back order, which likely means it will not be returning for Season 2.

There may be a small glimmer of hope, though. As part of a new deal with Netflix, Frequency will be available on the streaming service eight days after its season finale on The CW. With the network not yet officially cancelling the show, it is speculated that another season could be in the cards if it performs well on Netflix.

HBO announced today that Westworld has been renewed for a second season. The sci-fi drama launched in October to the network's highest viewership numbers for a premiere since 2014's True Detective.

Headlined by an A-list cast, big-name producers, and top-quality production values, Westworld aimed to make a splash with hopes of becoming HBO's next flagship series. And it has not disappointed thus far, averaging over 11 million viewers through its first six episodes, which is actually tracking higher than Season 1 of Game of Thrones.

Based on the 1973 film of the same name, Westworld is a dark odyssey that takes place in the near future, with a re-imagined past, during the emergence of artificial consciousness and the evolution of sin. The setting is a high-tech adult theme park, where every human appetite can be indulged regardless of how noble or depraved.

10 episodes have been ordered for Season 2 of Westworld, with the new season not scheduled to return until late 2017 or early 2018 due to the scope of its production.

CBS has added an additional six episodes to the first season of Man With A Plan. The top-up amounts to a full season of 19 episodes of the freshman comedy, which premiered on October 24 as a late entry in the 2016 fall season.

While early critical response to the show has been underwhelming, its first three episodes have garnered healthy ratings airing after fellow newcomer Kevin Can Wait on Monday nights.

Man With A Plan is the latest starring vehicle for Matt LeBlanc, who makes his return to network television for the first time since 2004's Joey, which spun-off his character from his career-making series Friends. In the series, LeBlanc stars as a contractor dealing with his new role as a stay-at-home dad after his wife returns to the workplace.

The CW has added four additional episodes to Season 2 of DC's Legends of Tomorrow. The superhero series, which features characters spun off from DC Comics shows Arrow and The Flash, will now air a total of 17 episodes in its sophomore season.

Legends of Tomorrow is now one of four series on The CW that the follow heroes from the DC Comics Universe, after Supergirl's move to the network from CBS. The show premiered earlier this year as a mid-season entry, performing well during the winter and spring months. Its solid ratings made a case for The CW to move the series to the fall schedule for 2016-2017, where through its first four weeks has been putting up decent numbers.

Netflix announced today that Longmire has been renewed for one last season. The veteran crime drama will return next year for what will be its third season on the streaming service and sixth overall.

The much-loved series originally started out on cable network A&E back in 2012, where it aired for three seasons before being cancelled in 2014. The show's devoted fan base immediately cried foul - so loud that Netflix took notice and revived the series less than three months later.

Longmire fans who are subscribed to the streaming service have since enjoyed an additional two seasons, and will now get one final run that will give the show a chance to say goodbye with a proper conclusion.

Season 6 of Longmire will consist of another 10 episodes and is slated to premiere in 2017 in the US, Canada, Australia, and New Zealand.

Fox had some good news for Lucifer fans this morning, issuing an order for nine additional Season 2 episodes of the devilish drama. The pickup comes after a solid start through the opening five weeks of the fall, and gives the series its first full season of 22 episodes.

Lucifer premiered as a mid-season entry back in January of this year and impressed the network by becoming its 2nd-highest-rated new series of the season, as well as ranking in the top 5 among all freshman broadcast series in the adults 18-49 demographic. Its performance not only earned it an early renewal, but also a move to the fall lineup.

That move, which paired it with Gotham on Monday nights, appears to be paying off so far. Lucifer has been keeping pace with its lead-in, giving a the network a consistent prime time duo to start each week.

It was announced today that Saving Hope will be coming to a close after its upcoming fifth season. The veteran medical drama, which is produced out of Canada, currently airs on ION Television for U.S. audiences.

The series originally started out on NBC in 2012, airing only 11 episodes before the network pulled it from its scheduled due to soft ratings. The show continued for Canadian audiences only until 2014, when ION picked up its rights and brought the show back to the states.

Look for the fifth and final season of Saving Hope in 2017.

CBS announced today MacGyver has been topped up to a full 22 episode first season. The 2016 update to the 1980s action-adventure series is four weeks into its debut run, where it has so far surprised with solid ratings in its Friday night time slot.

Expectations for the series were decidedly low, and early reviews have not been kind. Despite its uphill battle, the show's numbers have told a different story, with an overall improvement in its time slot vs. last year in both total viewers and the adults 18-49 demographic.

The network has commissioned nine new episodes to add to the already-ordered 13, hoping that the show's strong start amounts to more than just the nostalgia factor.

AMC announced this evening that The Walking Dead has been renewed for an eighth season. The good news comes one week ahead of the much-anticipated Season 7 premiere that has fans anxiously awaiting the big reveal of which character met their fate at the hands of newly-introduced villain Negan.

The long-running drama has continued to maintain its prime time dominance, garnering ratings that rank it as one of television's top series. That streak should continue with Sunday's return thanks to last season's cliffhanger ending.

Another 16 episodes have been ordered for Season 8 of The Walking Dead, which will see the comic book-based series surpass the 100-episode milestone with its premiere episode in 2017.

It is being reported that Van Helsing has been renewed for a second season by Syfy. The freshman vampire hunting drama is just four episodes into its 13-episode debut run on the cable network, with new episodes currently airing on Friday nights.

Van Helsing is a re-imagining of the perennial Dracula brand that follows the resurrection of Vanessa Helsing, a descendent of the legendary Van Helsing lineage of warriors, and her quest to lead mankind against a world controlled by vampires in the post-Rising landscape.

Fox has issued an order for five additional episodes of Lethal Weapon, making it the first new fall series on the network to earn what amounts to a full-season pickup. The dramatic comedy, which is based on the hit film franchise of the same name, is three episodes into its freshman run and off to a solid start as a lead-in to flagship series Empire on Wednesday nights. Today's pickup increases the number of Season 1 episodes to 18.

Lethal Weapon is one of the latest attempts at bringing movie-adapted fare to network prime time. Today's full-season order is a positive sign that this could be one of the rare entries to escape an early demise that has befallen other big-screen-based series such as Rush Hour, Limitless, Minority Report, and Uncle Buck - all of which only lasted one season or less before getting the axe.

While TV shows based on movies tend to have better odds on cable, broadcast networks seem to have more trouble getting it right. Whether Lethal Weapon will earn that elusive second season will depend on how its ratings fare over the coming months.

Freeform announced today that Stitchers has been renewed for a third season. The sophomore drama has been a solid performer for the cable network, ranking as its second-highest rated new series of the past two seasons among adults 18-49, behind only Shadowhunters.

Stitchers premiered in 2015, back when Freeform was known as ABC Family. The series, which follows a young woman who is able to 'stitch' herself into the minds of the recently-deceased, is the network's first procedural drama.

Look for Season 3 of Stitchers in early to mid 2017.

FX announced today that American Horror Story has been renewed for a seventh season. The horror anthology miniseries from Ryan Murphy and Brad Falchuk has continued to captivate audiences with each new installment, bringing in some of the cable network's top ratings year after year.

Current installment American Horror Story: Roanoke has continued the show's trend of strong performance. The September 14 premiere is the franchise's third-most watched episode in its six-year history with 11 million total viewers in Live+3 viewing.

The next installment of American Horror Story has yet to be named. All that is known so far is that it will return in 2017.

It is being reported that NBC has officially pulled the plug on Aquarius after two seasons. The David Duchovny drama, in which he played a cop on the trail of Charles Manson, had a tough go of things throughout its two-summer run on the network. Despite a promising start last year, the show never managed to find the mass appeal it was looking for.

Aquarius premiered solidly for NBC back in the summer of 2015 and was rewarded with an early Season 2 renewal. When ratings tapered off, it was quietly moved to Saturdays where it would finish out its run. The network remained optimistic, though, and stuck to its word to bring the show back for another season in 2016.

Unfortunately the show struggled once again this summer, forcing NBC to once-again push the ratings-challenged series off to Saturday nights in order to offset its low viewership numbers. Not surprisingly, a third season was not looking good, and back in August NBC president Jennifer Salke admitted as much, stating that bringing Aquarius back once again would be "tough".

FX announced today that The Strain will be coming to an end next year. The cable network has renewed the vampire drama for a fourth and final season to air in the summer of 2017.

Currently halfway through its third season, The Strain has enjoyed a solid run on FX. From the beginning, its creators have always envisioned a limited run for the series, which is based on Guillermo del Toro and Chuck Hogan's novel trilogy of the same name.

It is being reported that ABC has cancelled Mistresses, opting not to renew the soapy drama for a fifth season. The summer series had just aired its fourth-season finale this past Tuesday. Ratings were mostly solid over the course of its run, though viewership in Seasons 3 and 4 was down somewhat compared to its first two seasons.

The cancellation of Mistresses adds to the list of summer dramas axed by the network in recent years, with programming in the off-season now shifting towards more alternative fare such as retro game show revivals which have been performing well in prime time.

Just over a month since renewing The Last Ship for a fourth season, TNT announced today that it has ordered Season 5 as well. The post-apocalyptic drama, which is gearing up for its third-season finale this Sunday, has continued to be a solid performer for the cable network.

This season of the show has been averaging over 7 million viewers per episode across its multiple platforms, which has kept it in the Top 10 summer dramas on basic cable among adults 18-49. Today's additional season order clearly indicates that TNT sees the show as one of its stronger entries.

While Seasons 2 and 3 of The Last Ship were each 13 episodes in length, Seasons 4 and 5 will be returning to the 10-episode count that it originally premiered with in Season 1. Look for Season 4 to drop in summer 2017, with Season 5 following in summer 2018.

Syfy announced today that Dark Matter has been renewed for a third season. The Canadian-produced drama, which concludes its sophomore run later this month, follows a spaceship's crew that have no memories of who they are or how they got on board their craft.

There is no word yet on the number of episodes on order for Season 3, but a return is expected in 2017.

Syfy announced today that Killjoys has been renewed for a third season. The good news comes a day ahead of the drama's sophomore-season finale and a year to the day after it was first renewed for a second season.

Season 2 of the Canadian-produced series has continued to perform well for the cable network, averaging 1.1 million viewers when factoring in three days of DVR viewing. The season finale airs tomorrow night, Friday, September 2 at 9:00pm.

Killjoys follows interplanetary bounty hunters chasing fugitives throughout a distant planetary system on the brink of a bloody class war. Seasons 1 and 2 of the show have consisted of 10 episodes apiece, though the number of episodes on order for Season 3 is not yet known.

Look for Killjoys to return in 2017.