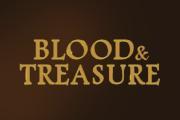 CBS announced today that Blood & Treasure has been picked up for a second season. The summer adventure drama is seven episodes into its freshman run and has been performing decently for the network on Tuesday nights despite decidely-mixed reviews.
The hour-long series follows a brilliant antiquities expert who teams up with a cunning art thief in order to catch a ruthless terrorist who uses stolen treasure to fund his attacks. As the duo traverses the globe in search of their target, they unwittingly find themselves entrenched in a centuries-old battle for the cradle of civilization.
Look for Season 2 of Blood & Treasure in 2020, likely as a summer entry once again.
More adventure is on the horizon! #BloodAndTreasure will be back for a second season! pic.twitter.com/a3cCLZyV1i

— Blood & Treasure (@TreasureCBS) June 26, 2019