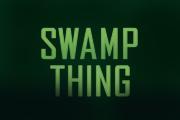 It looks like DC Universe has already made its first cancellation. Reports are out that the new video-on-demand service will not be bringing back Swamp Thing for a second season. The news comes just one episode into the drama's freshman run.
This revelation won't likely surprise those following the show, as it has already dealt with its share of behind-the-scenes drama. Back in April, word began circling that production was being abruptly shut down after just 10 of its planned 13 episodes. Co-star Virginia Madsen seemed to confirm the rumor in a since-deleted Instagram post that read, "I'm beyond sad. What a terrible decision. We have been cut to the core by those who have never set foot into the Swamp."
It has yet to be seen how successful DC Universe will ultimately be. Competition is heating up in the VOD space, and its content will likely only appeal to a niche audience. The platform still hasTitans and Doom Patrol in its live-action slate. The former has already been picked up for a second season, while the latter is still awaiting word on its fate.
Swamp Thing follows Abby Arcane, a doctor at the CDC investigating what appears to be a deadly swamp-born virus in her small Louisiana town. When a fellow scientist tragically dies, Abby shockingly learns that the murky swamp holds mysterious and horrifying secrets that reveal he may not truly be dead.