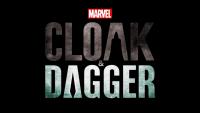 Word is out that Freeform will not be ordering a third season of Marvel's Cloak & Dagger, cancelling the show after two seasons. The sad news comes nearly five months after the comic-based drama aired its sophomore finale, which will now act as its series ender.
Set in the Marvel Cinematic Universe, Cloak & Dagger follows the lives of two teenagers named Tandy and Tyrone. While they come from very different backgrounds, they are awakened to newfound superpowers that mysteriously link them to each other.
The hour-long series premiered in 2018 to critical praise and solid viewership numbers, with its debut run ranking as one of that summer's top cable dramas in key demographics. It couldn't sustain that momentum going into Season 2, however, as ratings slipped considerably.
While the show is now over, fans will get a final chance to catch the Cloak & Dagger duo this December in the upcoming third season of Marvel's Runaways as part of a planned crossover event.