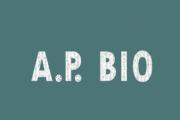 Word is out tonight that NBC has cancelled A.P. Bio after two seasons. The news was confirmed by series creator Mike O'Brien, who took to social media to express his sadness that the "favorite project" of his life would not see a third season.
Produced by Seth Meyers, the comedy premiered in 2018 as a mid-season entry that ultimately garnered mixed reviews and underwhelming ratings. Still it was renewed for a second go-round, though its sophomore run has only seen viewership taper off even further.
The half-hour series follows a philosophy scholar who, after losing out on his dream job, takes a position as a high school Advanced Placement Biology teacher. But he has plans far beyond teaching biology, including using his classroom full of honor roll students to help him mentally break his job-stealing nemesis and win back the position that he feels is rightfully his.
loving the work, so this is very hard. We have 4 left to air and they're 4 of my favorites. Plus 22 others are on Hulu (for now) and https://t.co/wUeZQNY5WZ. Please check them out and tell a friend about the show and tell the people who worked on it that they did a good job!

— Mike O'Brien (@MikeOBrienXOXO) May 25, 2019