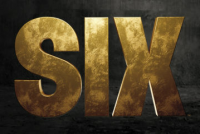 It is being reported that History has cancelled Six after two seasons. The Navy SEAL drama is currently in the midst of its sophomore run, with four episodes remaining until its now-series finale in early August.
The show premiered early last year and had a solid debut outing, airing eight episodes that delivered strong ratings for the cable network. Season 2, however, has not fared as well. Viewership through its first six episodes if off by nearly half compared to Season 1, making it difficult to warrant a third season pickup.
Inspired by true events, Six takes place in the high stakes world of the elite Navy Special Operations unit known as SEAL Team Six. Its members are tasked with the covert mission of eliminating a Taliban leader in Afghanistan, but the mission goes awry when they discover that a U.S. citizen is working with the terrorists.