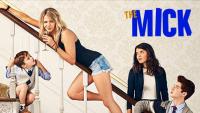 It is being reported that Fox has ordered an additional seven episodes for Season 2 of The Mick. The good news comes as the comedy continues to be a solid performer for the network, with ratings through its first four weeks this fall staying on par with the back half of its freshman run.
This is The Mick's first season on the regular fall schedule after starting out as a mid-season entry earlier this year with its premiere episode falling on New Years Day. The show jumped out of the gate, putting up strong numbers that resulted in four episodes being added to its first season - something not commonly done for mid-season shows. Today's top-up, though, gives The Mick its longest season yet at 20 episodes.
The Mick stars It's Always Sunny in Philadelphia's Kaitlin Olson in her first leading role on network television. She plays Mickey - an overbearing hustler from Rhode Island who is unexpectedly given guardianship of her estranged sister's three high-maintenance children.
New episodes are currently airing on Tuesday nights at 9:00pm.