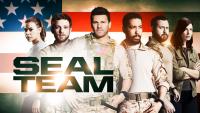 CBS today extended its initial order for SEAL Team, picking up nine additional episodes of the freshman military drama. The move makes SEAL Team the first new drama of the fall season to get a full 22-episode order.
The series follows an elite unit of Navy SEALs that is composed of a tight-knit group of patriots with fearless dedication. Deployed on clandestine ops around the world, its members embark on these dangerous, high-stakes missions knowing the toll it takes on themselves and their families.
David Boreanaz stars in the series, which is off to a solid start on Wednesday nights. Its premiere last month netted nearly 10 million total viewers and a 1.5 rating in the adults 18-49 demographic. Week 2 dipped to a 1.2 in the demo, but it impressively held that same rating for its third episode.
New episodes of SEAL Team air Wednesday nights at 9:00pm.