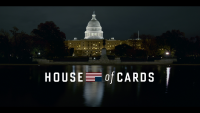 Netflix confirmed today that the upcoming sixth and final season of House of Cards will be going ahead without any involvement from Kevin Spacey. The already-ordered season appeared to be in jeopardy after its star had allegations of sexual misconduct levied against him, resulting in a suspension of production in late October.
With Spacey now removed from the veteran political drama, the final eight-episode season will proceed with Robin Wright in the lead - but it may be some time before its release. Production is not set to begin until sometime in 2018, which could mean a premiere either late in the year or even in 2019.
Premiering in 2013, House of Cards was the streaming service's first-ever original series, going on to garner heaps of critical acclaim and accolades for its strong performances and engrossing storytelling. While the series will be ending on a somewhat sour note, the final episodes will at least be able to give some closure to fans who stuck around from the beginning.