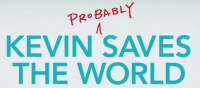 ABC has reportedly ordered three additional episodes for the first season of Kevin (Probably) Saves the World. The freshman drama premiered last month and is six episodes into its run.
Jason Ritter stars as the titular character, Kevin Finn, who is a self-absorbed man down on his luck and on a perilous path to despair. When he heads back home to stay with his twin sister and niece, an unlikely celestial being appears to him and tasks him with a mission to save the world, giving Kevin a new purpose in life.
While reviews have leaned to the positive side, the show has struggled to find an audience on Tuesday nights at 10:00pm. Episodes regularly fall behind its time slot competition, drawing fewer overall viewers and averaging below a 0.8 in the adults 18-49 demographic.
While the three-episode pickup does extend the show's season, the small number raises questions about the show's future. On one hand, the total number of episodes falls short of a full season order - something typically required for a show to return for another season. But on the other hand, ABC's top new drama The Good Doctor, only received five extra episodes for its first season and is considered a shoo-in for a renewal.
For now it appears the network is taking a wait-and-see approach to Kevin (Probably) Saves the World, with its future likely-dependent on how it performs for the remainder of the season.