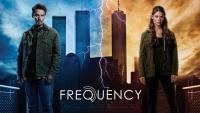 The CW announced its winter schedule today, which includes a January 25 season finale date for Frequency. This confirms that the network has decided not to order any additional episodes for the show's first season.
The freshman drama premiered in early October but failed to generate much interest in its 9:00pm time slot following Arrow on Wednesday nights, losing roughly half of its lead-in viewership. The show's soft ratings resulted in no back order, which likely means it will not be returning for Season 2.
There may be a small glimmer of hope, though. As part of a new deal with Netflix, Frequency will be available on the streaming service eight days after its season finale on The CW. With the network not yet officially cancelling the show, it is speculated that another season could be in the cards if it performs well on Netflix.