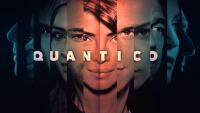 It was announced today that ABC will be shifting second-year series Quantico into a new time slot when it returns from hiatus in January. The sophomore FBI drama will take over Monday nights at 10:00pm, filling the hour currently occupied by the new Hayley Atwell drama Conviction, which did not receive an order for any additional episodes past its original 13.
The network is likely hoping to improve Quantico's fortunes with the move, which will see it following hit reality series The Bachelor - a reliable performer that pulls in much stronger numbers than its current Sunday night lead-in Secrets & Lies. Quantico's ratings have been tapering off after an impressive debut in 2015 that saw it rank as the #1 broadcast series on Sunday nights among adults 18-49.
Look for Quantico on its new night beginning Monday, January 23 at 10:00pm.