'Fear The Walking Dead' Renewed For Season 4
---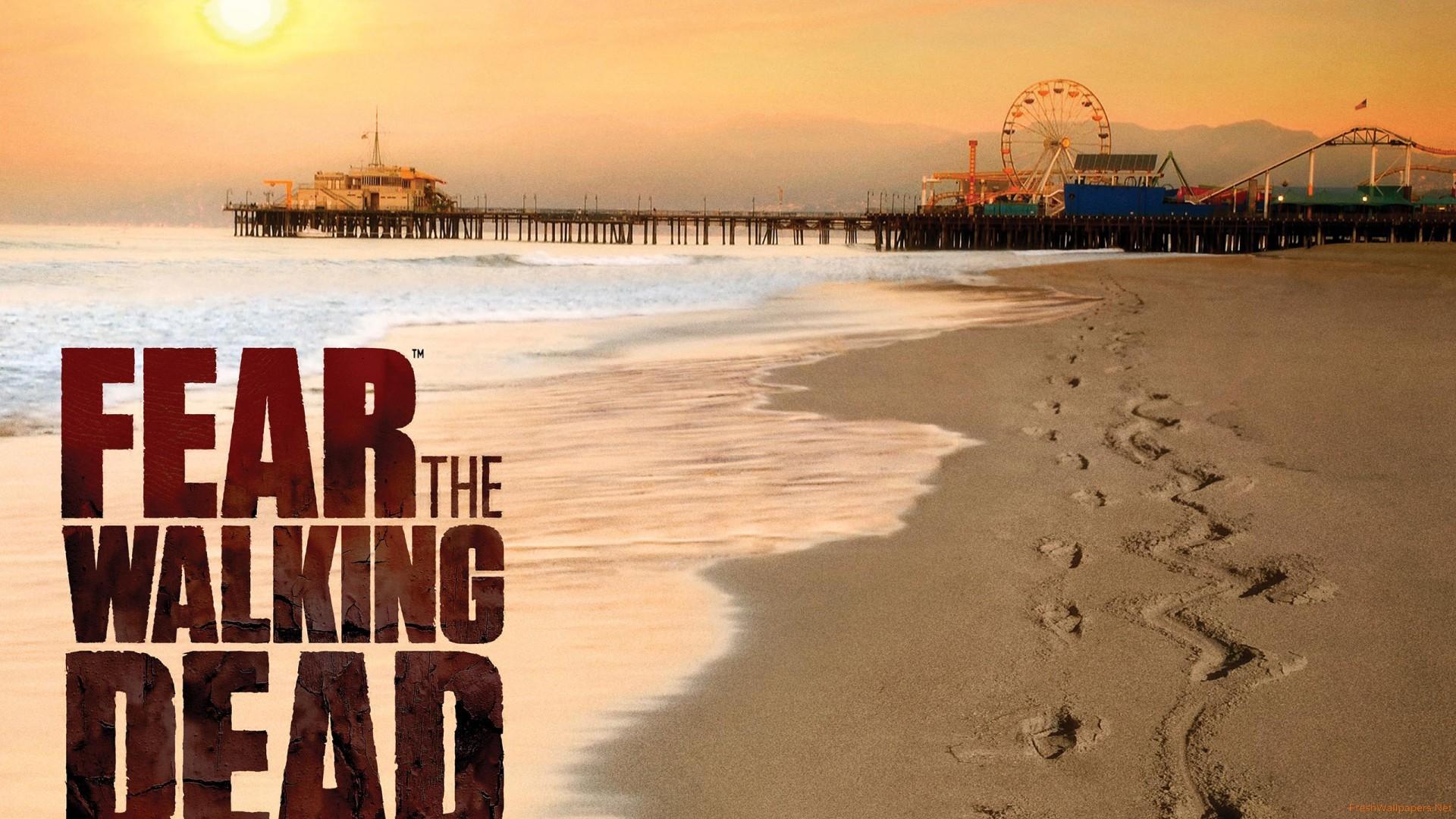 The horror spin-off will continue in 2018.
---
---
User Feedback
Categories

It is being reported that The Exorcist has been renewed by Fox for a second season. The novel-based drama premiered last September with a 10-episode run, which is shorter than the typical length of fall series. While a little soft in the ratings, the series found a consistent audience on Friday nights.

Based on the 1971 novel of the same name, The Exorcist follows two very different priests - Father Tomas Ortega, who is the new face of the Catholic Church, and Father Marcus Brennan, a modern-day Templar Knight raised by the Vatican since childhood. Caught in the middle is the Rance family, who are members of Father Tomas' parish. With a demonic presence in their house appearing to grow stronger each day, they appeal to Father Tomas for help, which sets the naïve priest on a collision course with Father Marcus.

Fox announced today that Brooklyn Nine-Nine has been renewed for a fifth season. The half-hour series, which stars Saturday Night Live alum Andy Samberg, continues to be a reliable comedy for the network, garnering steady viewership and its share of critical praise, with multiple award wins including two Golden Globes.

Brooklyn Nine-Nine follows the offbeat group of detectives and staff at the 99th precinct of the NYPD. The eclectic squad is led by Jake Peralta, a talented but immature detective whose carefree style clashes with his stern, by-the-books captain.

Look for Season 5 of Brooklyn Nine-Nine this fall.

While many saw this coming, it is now official: NBC has cancelled The Blacklist: Redemption after one season. The freshman drama premiered earlier this year as a spin-off of The Blacklist, but struggled to find a substantial audience over the course of its eight-episode run.

Spin-offs of successful shows are common, with networks attempting to appeal to the existing audience of an already-popular series. But perhaps the timing for a Blacklist spin-off was a little late, as the once-breakout hit has seen its viewership dip considerably in its later years. With Redemption likely not attracting many new viewers to the franchise, its success would have necessitated a large number of Blacklist viewers to tune into the new entry.

ABC has renewed Marvel's Agents of S.H.I.E.L.D. for a fifth season. The veteran drama had been seen as being on the bubble for another pickup after ratings in its most-recent season really starting to dwindle. Propping up its weak overnight performance, though, is said to be its strong DVR viewership, international audience, and tie-in with other franchises within the Marvel universe.

Fox has cancelled Son of Zorn after just one season. The comedy premiered as part of the network's fall lineup last September with a unique format for prime time, mixing live-action and comedy together. The series was a decent performer on Sunday nights but word is the show was difficult to produce, making it harder to justify a second season.

Son of Zorn followed an embattled warrior from a faraway island in the Pacific Ocean where everything and everybody is animated. He decides to travel to Orange County, California with hopes of winning back his live-action ex-wife and his teenage son.

Fox announced today that Batman prequel Gotham has been renewed for a fourth season. The DC Comics-based drama, which follows the beginnings of the infamous city and all of its villains and vigilantes, has been one of the network's top series in recent years.

The Monday night staple has continued to be a solid performer in the 8:00pm time slot, delivering an average of over 5 million viewers and a healthy rating among the key adults 18-49 demographic. Look for Season 4 to return this fall as part of Fox's 2017-2018 lineup.

The CW announced late today that The Originals will be returning for a fifth season. The veteran drama, which got its start as a spin-off of the recently-concluded The Vampire Diaries, will be returning for the 2017-2018 television season.

While never the breakout hit that its predecessor once was, The Originals has been able to draw a consistent level of viewership over the course of its run. Its move to Fridays a year ago managed to improve the network's performance for that night of the week.

The series follows Klaus from The Vampire Diaries and his clan, who are part of the original vampire family in New Orleans. One thousand years after they pledged to always remain together, family bonds are starting to break. With the passing of time, tensions have risen and tragedy has taken its toll, with the hunger for power corrupting its members.

ABC announced late today that Modern Family has been renewed for two more seasons, extending the comedy's run through at least Season 10. The good news comes on the heels of new contracts being signed with all 10 adult regulars on the show, which was key to it returning.

The veteran series has been one of the network's strongest performers over the course of its run, and while its current ratings are not quite at the level of its heyday, it remains a formidable entry in ABC's prime time lineup.

With today's renewal, at least 22 episodes have been ordered for each of Modern Family's next two seasons in 2017-2018 and 2018-2019.

NBC announced today that Chicago Fire has been renewed for a sixth season. The long-running original entry in the Chicago franchise was picked up today for the 2017-2018 season along with spin-offs Chicago Fire and Chicago Med. The franchise's most-recent entry, Chicago Justice, is still awaiting a decision on its fate.

Chicago Fire follows the courageous men and women at Firehouse 51, home to noble firefighters and paramedics who look fear in the eye and forge headfirst into dangerous situations in order to help those in need. After 113 episodes, the series still draws consistently-strong ratings for the peacock network.

NBC announced today that Chicago PD has been renewed for a fifth season. The veteran spin-off joins franchise-mates Chicago Fire and Chicago Med in being picked up for the 2017-2018 television season. Chicago Justice, the most-recent entry in the franchise, is still awaiting a decision on its fate.

The first spin-off of hit Chicago Fire, Chicago PD involves stories of the uniformed police patrol and intelligence unit that pursues the perpetrators of The Windy City's major street offenses. The series continues to be a reliable performer for the network year in and year out, and in 2018 will reach the impressive 100-episode milestone.

NBC announced today that Chicago Med has been renewed for a third season. The sophomore spin-off joins franchise-mates Chicago Fire and Chicago PD in being picked up for the 2017-2018 television season. Chicago Justice, the most-recent franchise entry, is still awaiting a decision on its fate.

Chicago Med has continued to draw solid numbers for the network after its move to Thursday nights, though ratings have dipped to new lows in the second-half of the season.

Following in the footsteps of Chicago Fire and Chicago PD, Chicago Med follows the brave team of doctors and nurses that work at a hectic hospital in the Windy City. On a daily basis they tackle unique new cases while dealing with the drama of personal relationships.

Word is out this afternoon that ABC has cancelled Last Man Standing after six seasons on the air. The news comes as a bit of a surprise, as the veteran comedy has been an overall consistent performer for the network on Friday nights.

On the air since 2011, Last Man Standing was another successful TV venture for comedian Tim Allen. The show was Allen's first return to the small screen since 90s hit Home Improvement, and while it didn't quite have the longevity of his past series, its 130-episode run was impressive by today's standards.

It is being reported that NBC has cancelled Timeless after its first season. This is sad news for fans of the show, as its final episode in February left with a cliffhanger that will now go unanswered.

The action drama premiered last fall as part of the network's fall line-up with a lot of momentum behind it. The show was created by two veteran producers, had a high profile time slot airing after The Voice on Monday nights, was heavily promoted, and received high critical praise from early reviews. While its premiere episode got off to a solid start, ratings slipped in subsequent weeks leaving only a limited audience who kept tuning in.

Signs the show was in trouble started to become apparent early on. When NBC added additional episodes to the show's freshman run, only three were ordered. Co-creator Eric Kripke also cautioned fans on his Twitter page, writing that its live viewer ratings likely needed to improve to warrant another season.

Timeless followed a team of time travelers who were chasing down a mysterious criminal intent on changing the past in order to destroy America. The team worked to keep up with the dangerous fugitive to stop his path of destruction, while being careful not to let their actions adversely affect the past.

It is being reported that an endgame has been worked out for Scandal to conclude with its recently-ordered seventh season. While ABC hasn't yet commented on the matter, the network is expected to make an official announcement at their upfront presentation next week.

The veteran Shondaland political thriller has continued to be a solid performer deep into its run, with viewership numbers in key demographics making it one of broadcast television's top dramas. While most long-running series eventually end due to falling ratings, the decision to conclude Scandal is said to be creatively-driven, with creator Shonda Rhimes ultimately making the call.

It is being reported tonight that Fox has decided to cancel Sleepy Hollow. The news comes just over a month after the mystery drama aired its Season 4 finale. Considered to be on the bubble for a couple of years now, the network's move to end the show does not come as much of a surprise.

Sleepy Hollow premiered back in 2013 and was a strong addition to Fox's prime time lineup for its initial 13-episode run. Unfortunately it could not keep up that level of momentum during Season 2, though it maintained a respectable level of viewership that easily earned it another pickup. Things were not looking as good by the end Season 3, but despite being the network's lowest-rated drama it was brought back once again. The recently-concluded Season 4 saw the show's lowest ratings numbers yet, which sealed its fate.

NBC has renewed midseason entry Taken for a second season. The action thriller premiered earlier this year for a 10-episode run that drew modest ratings for the network on Monday nights.

Acting as a prequel to the film franchise of the same name, Taken follows the origin story of a younger and hungrier former Green Beret Bryan Mills as he deals with a devastating personal tragedy. While he works to overcome the incident and exact his revenge, Bryan finds his way into a career as a CIA operative, a job that allows him to utilize his very particular and dangerous set of skills.

The show is going big for Season 2, with NBC ordering an increased episode count of 16 for its sophomore run. There will also be some changes up top, as original showrunner Alex Cary is departing the series. It is not clear yet who will step in to fill his role.

It is being reported that The CW has decided against continuing with Frequency, opting to cancel the new series after just one season. The news does not come as much of a surprise, as the show's 13-episode freshman run struggled to find an audience and never really generated much buzz.

As we reported back in November, things were not looking good after the network failed to add any additional episodes to show's initial order. While there was a small amount of hope due to a deal with streaming giant Netflix, the lack of a back order all but sealed its fate.

Based on the 2000 film of the same name, Frequency followed a woman who never got the chance to really know her father before he was killed when she was only eight years old. 20 years later she is shocked to hear her dad's voice come through his broken old ham radio, transmitting from 1996. But even though communication is now possible, changing history proves to have a dramatic affect on her life in the present.

It is being reported that Emerald City has been cancelled after one season. NBC's reimagining of The Wizard of Oz premiered as a mid-season entry earlier this year with a 10-episode run. Unfortunately its time on the air drew little fanfare, and its ratings reflected that in its Friday night time slot.

Emerald City took a dark, reimagined look at the Land of Oz, where a 20-year-old Dorothy Gale is swept up into a mystical land far removed from her own. This unsuspecting young woman is forced to navigate this new, dangerous land filled with competing realms and dark magic, on the road to finding her true destiny.

Hulu announced this morning that The Handmaid's Tale has been renewed for a second season. The freshman drama premiered just last week, with early reviews so far garnering much critical acclaim. Subscriber engagement has been strong too, as according to the streaming service, the show's debut episode has been watched by more viewers than any of its other series premieres to-date.

Based on the classic Margaret Atwood novel of the same name, The Handmaid's Tale takes place in a totalitarian society that was previously part of the United States. Elisabeth Moss plays Offred, one of the few remaining fertile women in the dystopia of Gilead. A handmaid in the commander's household, she is one of the caste of women who are forced into servitude in a desperate attempt to repopulate the world.

Look for Season 2 of The Handmaid's Tale in 2018.

AMC announced today that Into the Badlands has been renewed for a third season. The good news comes six episodes into the martial arts drama's sophomore run, where it is currently averaging a healthy 3.6 million viewers per episode.

The cable network is upping the episode count once again for Season 3, ordering a supersized 16 episodes for when the show returns in 2018. That numbers is up from the six and 10 episodes ordered for Seasons 1 and 2.

Three episodes ahead of its first-season finale, NBC has pulled Powerless from its schedule effective immediately. The freshman comedy premiered earlier this year as a mid-season entry but through nine episodes has failed to attract a sizeable audience in its Thursday night time slot.

Set in the universe of DC Comics, Powerless follows a group of employees at Wayne Security in Charm City, which is home to a number of superheroes and villains - as well as citizens who are fed up of dealing with the collateral damage of their constant fighting.

It is not clear at this time if the unaired episodes of Powerless will make it to air.

It was announced this morning that Freeform has renewed Shadowhunters for a third season. The early pickup comes midway through the fantasy drama's sophomore run, with the good news being delivered - as it was last year - via a Facebook Live Chat with the members of the cast.

Based on Cassandra Clare's best-selling book series The Mortal Instruments, the series follows a young girl who learns that she comes from a long line of human-angel hybrids known as Shadowhunters. After her mother is kidnapped, she becomes immersed in the world of demon hunting as she begins a journey of self-discovery in a new world filled with faeries, warlocks, vampires, and werewolves.

Shadowhunters continues to draw decent viewership in Season 2, after originally launching as the cable network's top-rated scripted original last year. The show's strong social media presence has helped it maintain a devoted core of fans who log millions of engagements across social media platforms.

Look for Season 3 of Shadowhunters in 2018. In the meantime, the second half of Season 2 kicks off on June 5.

Fox announced today that another limited run of The X-Files has been ordered to continue the event series revival from 2016. David Duchovny and Gillian Anderson will be back as agents Mulder and Scully, with creator and executive producer Chris Carter returning as well.

The cult favorite sci-fi series was revived early last year after a 13-year absence. After a short, but successful run, fans were left unsure of its future after there was no mention of the show when the network announced its schedule for 2016-2017. At the time though, Fox executives stated that the door was being left open for an eventual return.

Now after a one-year break, Fox has ordered 10 new episodes of The X-Files for the 2017-2018 broadcast season. Production is slated to begin this summer, with a possible premiere early next year.

The horror spin-off will continue in 2018.

Syfy announced today that The Magicians has been renewed for a third season. The news comes one week ahead of the fantasy's drama's sophomore finale, which will cap another successful season that saw ratings growth across a number of key demographics compared to its freshman run.

Adapted from the Lev Grossman novel trilogy of the same name, The Magicians follows a graduate student who enrolls at a magical college only to discover that the fantasy world from popular children's books is actually based in truth and poses a danger to his world.

The cable network has ordered another 13 episodes of The Magicians for Season 3, matching the counts from its first two seasons. Look for Season 3 to premiere in early 2018.