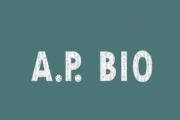 NBC announced today that A.P. Bio has been renewed for a second season. The Seth Meyers-produced comedy premiered as a mid-season entry in February and just wrapped its 13-episode freshman run last week.
The half-hour series follows a philosophy scholar who, after losing out on his dream job, takes a position as a high school Advanced Placement Biology teacher. But he has plans far beyond teaching biology, including using his classroom full of honor roll students to help him mentally break his job-stealing nemesis and win back the position that he feels is rightfully his.
Critical response to the first season of A.P. Bio was mixed, with reviewers recognizing the show's ability to generate laughs but expecting more from the overall premise. Viewers seemed to have similar sentiments, as ratings were ultimately underwhelming.
Look for Season 2 of A.P. Bio to return for the 2018-2019 season, likely as a mid-season entry once again.
---
Report Article