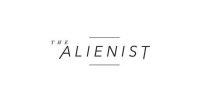 Five months after limited series The Alienist concluded its run, TNT has ordered another chapter to continue the story. Titled The Angel of Darkness, the sequel will be based on the follow-up novel of the same name by author Caleb Carr.
Set in 1896 New York, The Alienist followed a criminal psychologist and a newspaper illustrator who are tasked by the city's newly-appointed police commissioner to investigate a string of gruesome murders in secret. Its 10-episode run fared well for the cable network, garnering solid ratings and picking up multiple Emmy Award nominations.
The three series leads, Daniel Bruhl, Luke Evans, and Dakota Fanning, will all be returning for The Angel of Darkness, which will likely premiere in early 2019.