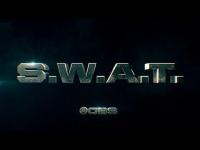 CBS today extended the first season of S.W.A.T., ordering seven additional episodes to bring its total up to 20 - good enough to be considered a full season. The move makes S.W.A.T. the network's second rookie drama of the 2017-2018 season to get a full season top-up.
Shemar Moore stars in the Los Angeles-based series, which follows a former Marine tasked with running a specialized tactical unit that acts as the city's last stop in law enforcement. Raised on the streets, he is torn between his loyalty to his roots and his allegiance to his new brothers in blue as he works to bridge the divide between his two worlds.
Premiering earlier this month as a late entry to the fall lineup, S.W.A.T. is off to a decent start through three episodes. While not a ratings standout, it has kept up with its competition in the 10:00pm time slot on Thursday nights.