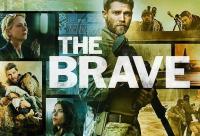 NBC released its mid-season schedule today and it's not good news for The Brave. The freshman military drama is nowhere to be found in the line-up, meaning the network did not order any additional episodes for the show's first season.
The hour-long series premiered in September and through eight episodes has been a decent performer in the 10:00pm time slot on Monday nights, though it regularly gets beaten by a substantial margin by The Good Doctor, which brings in roughly double the viewers, both overall and in the key adults 18-49 demographic.
The Brave takes place in the world of America's elite undercover military operations. In D.C., a team of analysts utilize highly-advanced surveillance technology from their headquarters, while out in the field a Special Ops squad of expertly-trained undercover specialists risk it all as they execute dangerous missions behind enemy lines in the name of freedom and saving the lives of innocent people.
What today's news means for now is that Season 1 of The Bravewill end after its initial order of 13 episodes is up, with a final decision on a second season to come at a later date. As history goes, however, Season 2 does not appear likely at this point.
Taking The Brave's time slot in the New Year will be new crime drama Good Girls, which premieres on February 26.