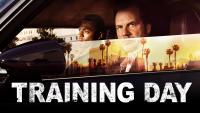 CBS has made a scheduling change to its Thursday night lineup, moving Training Day to Saturday nights when it returns from its current month-long break. The freshman drama has struggled to find a sizable audience since its February premiere, reaching under 5 million viewers per episode and garnering below-expected ratings in the adults 18-49 demographic.
Inspired by the 2001 crime thriller of the same name, Training Day stars the late Bill Paxton as a boundary-pushing veteran detective of the LAPD who is partnered with a younger, by-the-books officer who is actually undercover as part of an operation to spy on his new partner regarding his questionable methods.
The show was just four episodes into its run when Bill Paxton died unexpectedly due to complications from a recent surgery. The actor had already completed his work on the series, and will appear in its final seven episodes beginning on Saturday, April 8. While the show's long-term future is technically up in the air at this point, it is unlikely to continue past its first season.
Moving into Training Day's time slot starting March 30 will be the premiere of The Amazing Race's 29th season.