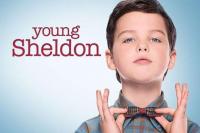 Just two days after a strong first showing, CBS has handed out a full-season order to Young Sheldon. The new Big Bang Theory spin-off debuted Monday with a "preview" episode that netted an impressive 3.8 rating in the adults 18-49 demo with a total of 17.2 million viewers. The show also fared well in retaining 98% of its lead-in audience from the season premiere of The Big Bang Theory.
The comedy follows a 9-year-old Sheldon Cooper growing up in East Texas. At a young age, his advanced mathematical and scientific mind isn't necessarily helpful when living in a town where football and church get all the attention. Vulnerable, gifted and naive, Sheldon is embarking on his awkward journey toward the man he will become.
The network has ordered an additional nine episodes to top up the show's freshman season to 22 episodes in total. With Monday's airing being dubbed a "preview", Young Sheldon will now take five weeks off before making its official premiere in its regular time slot on Thursday, November 2.