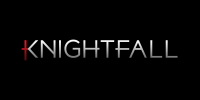 History announced this week that Knightfall has been renewed for a second season. The freshman series, which premiered last December, is one of two original dramas currently in the cable network's lineup.
The show's 10-episode debut run drew a solid audience, reaching 25 million total viewers (Live+7), ranking it as the season's #3 new cable drama among total viewers. While overall reviews were mixed, it did pick up a Saturn Award nomination in the category of Best Fantasy Television Series.
Knightfall follows the Knights Templar - a powerful and mysterious military order of the Middle Ages entrusted to protect Christianity's precious relics. Taking place years after the fall of the city of Acre, the last stronghold in the Holy Land, a clue emerges suggesting the whereabouts of the lost Holy Grail. This sends the Templars on a dangerous mission to find the lost Cup of Christ.
Joining the cast for Season 2 will be Mark Hamill, who is set to play a battle-hardened Knight Templar veteran of the Crusades tasked to train the new initiates to the Order. A new showrunner, Aaron Helbing, has also come aboard as an executive producer.