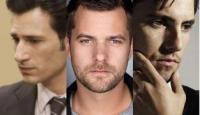 According to the casting sides, "Klaus is late-20′s to mid-30′s. He's handsome, charming, intelligent, with a sharp wit. He's the only person who can out-Damon Damon. That's because he's got a thousand years on him. Klaus is one of the Originals. Possibly the oldest. But you'd never know it because he keeps up with the times."
Ooh, sounds sexy. We put our heads together and came up with our list of dream casting for the pivotal role, so here are our nine favorites. We tried to keep it to TV actors, because we can all dream big, but we're pretty sure that Tom Hardy and Leonardo DiCaprio are unlikely to swing by Mystic Falls any time this century.
Hal Ozsan
You may not know him by name, but chances are you're familiar with his work as the super creepy rapist teacher on "90210" or as Dawson's unlikely mentor on "Dawson's Creek." He's got a sexy British accent -- which works out well, as Katherine first met Klaus in London in 1492. He's also good with a one-liner and he's definitely skilled at giving us the uh-oh feeling.
Why it won't happen: In addition to playing Professor No-means-yes, he's also played a man-witch on "Supernatural." How much CW villainy can one man take?
Joshua Jackson
The last time we saw Jackson, he told us that he was still waiting on a job offer from "Diaries" executive producers Julie Plec and Kevin Williamson. Yeah, he was probably kidding -- but we'd still love for them to call his bluff. Aside from his obvious shared history with the EPs, he's certainly debonair enough to have been a nobleman in the 15th century, and believe it or not, he doesn't always play the nice boy next door - check out his movie "Shutter."
Why it won't happen: Carina is not in charge of the world. Yet.
Milo Ventimiglia
Venti-latte worked with Williamson and Plec on "Cursed," alongside Jackson, and we've missed him on TV since NBC finally pulled the plug on "Heroes" in its vegetative state. We know he can rock a leather jacket, so he'll completely blend in with everyone else in Mystic Falls, and we've always loved his ability to deliver lines with a surprisingly stinging wit.
Why it won't happen: Unfortunately, Milo is too short to be scary.
 
Taylor Handley
Does anyone remember Kevin Williamson's far too short-lived CW summer drama, "Hidden Palms"? Handley, best known as Oliver from the first season of "The O.C." played a new kid in town with a troublesome past. We know he plays psycho-crazy-cuckoo-bananas pretty well - remember when he pulled a gun on Marissa Cooper? - and his grin is sexy enough to seduce even Katherine.
Why it won't happen: He's only 26 and looks even younger, so we're not sure he fits into the age bracket they're looking for. Plus, his juvenile demeanor is what makes him a charmer, but might not be believable for a 1000 year old vamp.
Jensen Ackles
Hello, dream casting! Have you seen him? (If not, we can show you pictures... they're plastered all over our cubicles to cheer us up on rainy days.) Ackles can switch from endearing to menacing in the blink of an eye - and he's proven that he can play a manaical lunatic with 2009's "My Bloody Valentine 3-D." He's definitely worthy of both Katherine's initial affection and her centuries-old fear. As for out-Damoning Damon? Jensen Ackles didn't invent the single man tear, but he perfected it. Accept no imitations.
Why it won't happen: Uh, he's kind of busy driving his soulless brother around the country in the best car ever.
Adam Brody
The wild card! Okay, we confess, we just miss having him on our televisions. Desperately. They want someone who keeps with the times, right? Nobody can blurt out a pop-culture reference like Adam Brody. It'd be wildly unexpected and might draw some new viewers to the show -- which will help now that "American Idol's" results show has been plunked down in that 8 p.m. Thursday timeslot. We'd rather watch Seth Cohen vamp out than hear Jennifer Lopez's opinion on anything.
Why it won't happen: We just can't imagine Klaus in skinny jeans, and we're pretty sure Brody's are super-glued to his legs.
 
 
Matt Czuchry
Just imagine Czuchry and Ian Somerhalder going head-to-head in a scene together. Most epic smirk-off ever. Czuchry can play the most unlikeable character on the planet, and you'd still find yourself wanting to take him home to Mom. We love him on "The Good Wife," but we loved him even more in his role as the entitled, selfish, sexy, and oh-so-wrong-for-Rory "Gilmore" guy.
Why it won't happen: He looks so much like Zach Roerig, and there's only room for one set of BAMF doppelgangers in this town.
Gale Harold
Though he currently plays a buttoned-up law professor on "Hellcats," we know just how sexy Harold can be from his time on "Queer as Folk" as Brian Kinney. In fact, on occasion, Damon's sexy smirk and catlike movements remind us of Brian, so we're sure Harold could out-Damon Damon with both hands tied behind his back.
Why it won't happen: Harold is a little old for the role - and speaking of doppelgangers, he definitely resembles Daniel Gillies, who plays Elijah.
Taylor Kitsch
We've got it on pretty good authority that Plec has a soft spot for those "Friday Night Lights" boys, and so do we. As a vampire in Mystic Falls, Klaus will definitely be required to remove his shirt, and nobody's better at doing that than Kitsch. He can smolder like nobody's business, and, much like vamp vixen Katherine, pretty much everyone he so much as glances at falls in love with him. We know we have.
Why it won't happen: We could see Kitsch going toe-to-toe with Damon, but we aren't sure he could intimidate Katherine.
To be honest, we definitely don't envy the casting director who has to fill this particular role. To find a man who makes Katherine want to hang out in a tomb indefinitely, as her body desiccates and her hair gets all un-shiny? It's not going to be easy.
Weigh in in the comments, Vamp fans, or tweet us your ideas. Let us know your dream Klaus, and don't forget to tell us if you hate our ideas. There's nothing we love more.

---